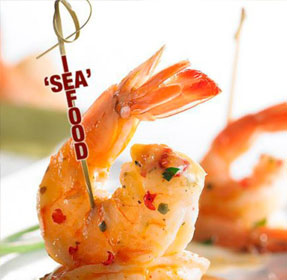 Happy Hogging with the Best Seafood Restaurants in Calangute Goa
Best Seafood in Calangute Restaurants, Amazing, Affordable, and Cozy Ambiance
Goa is best known for beaches, nightlife, and culturally diverse cuisines. Check out for the best regional food and a local drink called Feni to try during your visit. Be it a beach shack or a high-fi restaurant, Goa is bursting with authentic flavors with a perfect blend of spices.
Seafood Junction by Ramesh happens to be a little gem hiding away in Calangute. It is one of the best seafood in Calangute Goa, the reason is the chef gives a lot of attention to the silliest detail rather than just slapping it on your table. They cook delicious fish, crab, squid, tandoori, North Indian dishes, chicken, steak, curry, and a lot more to grab the attention of the visitors. They have been a pioneer in the food industry for 100 years, initially famed as the Ramesh Bar. The expansion in the business in the past 5 years has led to a high rating of 5. They are also considered as one of the best home delivery seafood restaurant in Calangute Goa.
However, in the by lanes lies a trail of the best fish thali in Calangute serving delights that has something for everyone. The bustling market with vibrant food stalls fringing around serves great menus that are the best seafood restaurant in Calangute Goa.
You will find a plethora of restaurants in Calangute making it difficult to choose the best. Some of the restaurants occupy favorable locations and the guests can walk in conveniently without facing a mess. The best food in Calangute Goa offer highly palatable food and ensures a great dining experience.
On-Site or Off-Site, We Are Unbeatable
You are spoilt for the best seafood restaurants in Calangute with home delivery and their wide range of meals and services to cater to the varied desire of the guests. The staff members are courteous and prompt at providing all kinds of services. You get various schemes and discounts at certain points of the year making it highly economical.
When you search for the best fish thali in Calangute, your location is easily trapped and a list of restaurants will show close to you. They deliver the hearty meal at all your events, be it a birthday party, wedding anniversary, or a family get-together.
Nowadays, many people prefer having a traditional and authentic thali than sitting at a fine dining place. There are some of the best seafood thali serving restaurants in Calangute serving Chinese, Punjabi, and Goan thali without compromising with the taste. Search for the best King fish thali in Calangute has become a regular affair for outsiders. You get a thin slice of perfectly fried Kingfish with rice and curries.
Seafood Junction by Ramesh at NaikoVaddo near St. Alex Church is an authentic restaurant to satisfy the tongues with different tastes. It stands amongst the best seafood in Calangute. Customers come from miles around to get a hearty meal in an amicable environment. It leaves you well-satiated with a lingering thought to desire for more.